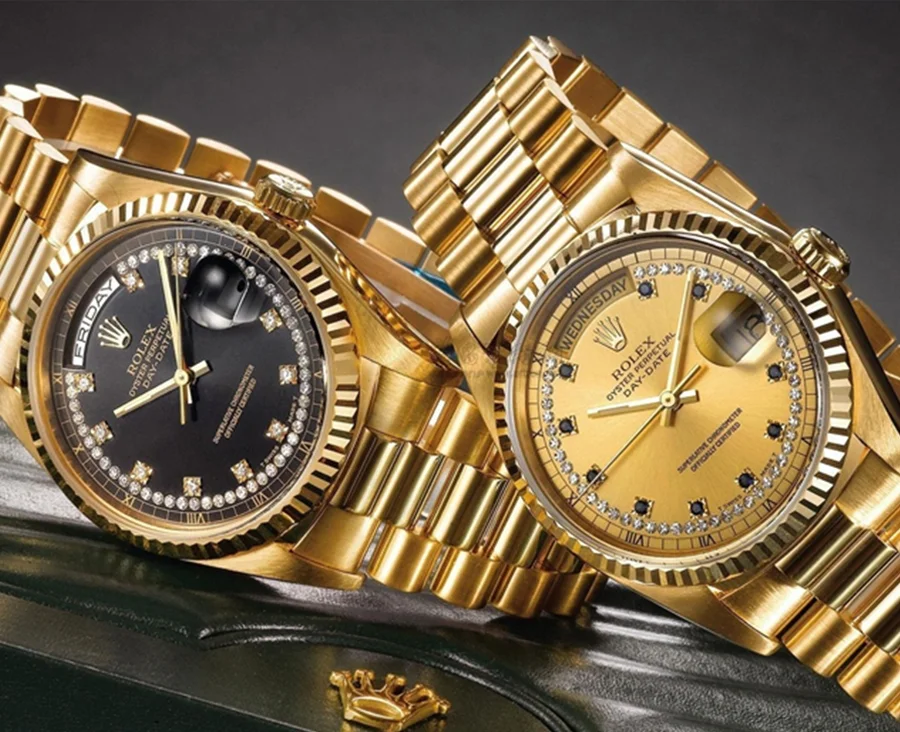 The Timeless Allure and Precision of Rolex Watches
Among luxury watch brands, none has captured the public's imagination or dominated pop culture quite like Rolex. For over a century, Rolex watches have been globally revered as icons of success, prestige, and impeccable taste. This blog post explores what has made Rolex the world's premier luxury watchmaker.
The Rich History and Heritage Behind the Crown
Hans Wilsdorf founded Rolex in London in 1905 with a vision to create reliable wristwatches, a novel concept at the time. Rolex went on to pioneer the first waterproof and dustproof watch with the patented Oyster case in 1926. This was followed by the first self-winding automatic wristwatch in 1931 called the Perpetual rotor. Rolex made history as the first watchmaker to earn chronometer certification for a wristwatch in 1910.
Other milestones include:
The invention of the Datejust, the first wristwatch with an automatically changing date on the dial, in 1945.
The Submariner, introduced in 1953, was the first watch guaranteed waterproof to 100m.
Rolex watches accompanied the successful summit of Mount Everest in 1953.
Rolex watches dove to the deepest part of the ocean during the Mariana Trench record descent in 1960.
This storied history imbues Rolex with an unmatched aura of innovation and prestige. Rolex watches have even played major supporting roles in films like the James Bond movies.
Unrivalled Customization for Personal Expression
While instantly recognizable, Rolex watches can also be extensively customized with different bezels, bracelets, dials, and materials. This allows clients to create Rolex watches that perfectly match their individual styles. A white gold Sky-Dweller with a champagne stick dial conveys classic refinement while a two-tone Submariner on an Oyster band makes a bold, sporty statement. Rolex Lady watches feature exotic dials and glittering diamond markers for a glamorous flair. This versatility has made Rolex a cross-generational status symbol.
Obsessive Pursuit of Excellence in Watchmaking
Rolex is beloved globally for its unparalleled quality and performance. The brand uses rigorous in-house testing facilities to ensure precision, waterproofness to depths of 300m, and reliability in even the most extreme conditions. The 904L stainless steel alloy used by Rolex is extraordinarily resistant to corrosion and scratches. Such scrupulous attention to detail carries a price tag – new Rolex watches range from $5,000 to $75,000 depending on features. But for Rolex devotees, owning a timepiece from the finest watchmaker is worth the investment.
How to Spot Fakes and Ensure Authenticity
Given Rolex's desirability, counterfeiting is rampant. Some ways to spot fakes are:
Misspellings or grammatical errors on dials
Typos, incorrectly spelled names, or grammatically incorrect wording on the dial indicate a fake Rolex.
Flimsy, cheap-looking bracelets, and bezels
Genuine Rolex bracelets and bezels are precisely crafted from high quality metals; fakes have flimsy, stamped metal components. It is better if you can visit a reputed watch store in person. Then you can get an authentic Rolex watch to your hands and see how premium it feels.
Inaccurate reference numbers or engravings
Authentic Rolex cases have the model's reference number engraved between the lugs which counterfeits often get wrong.
Uneven luminosity in markers
For guaranteed authenticity, only buy Rolex watches from the brand's authorized dealers. While used and vintage Rolex watches have an enthusiastic secondary market, their provenance should be double-checked.
Final words
For over a century, Rolex has demonstrated an unflinching commitment to innovation and uncompromising quality that has cemented its unrivalled reputation. Rolex's rich heritage coupled with its technical prowess ensure its timepieces will continue to be coveted symbols of prestige as well as instruments of great achievement. When you strap on a Rolex, you step into a legacy – and onto your wrist – that says more than hands ever could.